Working with raw data is most often than not a nightmare, presenting itself as badly structured and lacking many essential details that help businesses create amazing products for their customers.
With  Nordigen's Premium 2nd generation, we bring to you exciting improvements that will not only make your products/services more versatile, but also more precise and faster.
Let's dive right in.
Some of the improvements we are most excited about  🎉
Better structured data – transaction information and data points (e.g. address) are structured more clearly, with both transaction purpose and business category specified.
Faster – categorisation data is processed 10 times faster when compared to the 1st generation premium.
Cleaner – the information is cleaned effectively to provide quality data that is simple to understand.
After all the tests that were done on our initial Premium Products, we understood that there wasn't a real need for multiple independent products. Therefore, in order to maximize their full potential, we compiled them into a single product, one Nordigen Premium. 
That's exactly what the 2nd generation has to offer: a more effective, faster, and reliable way to make sense of raw transaction data sent by banks, all in one simple product. 
What you get with Premium🏆
When evaluating transaction data, from banks you get the sum amount, standard data and tons of unstructured text. With Premium, the output of transaction information also includes the following fields: 
Clean name  (company associated with the transaction)
Branch  (if applicable)
Location  (address, city, region, postal code, country)
Website information
Transaction type
Business category 
Purpose category
As an example, if you work for Nordigen, in your transaction data the business category is "IT service provider", but the purpose category is "Income" &"Salary". But there is so much more you can do with the information provided when using our new product.
With Premium, you will see segmented information about the location of the business (address, city, region, postal code, etc.), direct URLs to their website and also their logo images. With this data organised in a really neat way, it will be a breeze to integrate these extra pieces of information into your products and services, greatly improving your customers' user experience.
Using the example of Nordigen as an employer, for a monthly salary paid to an employee account, you would go from this unstructured raw data: 👇🏻

To this gorgeous piece of data, with all the information you need, organised, and essentially one line of code away: 👇🏻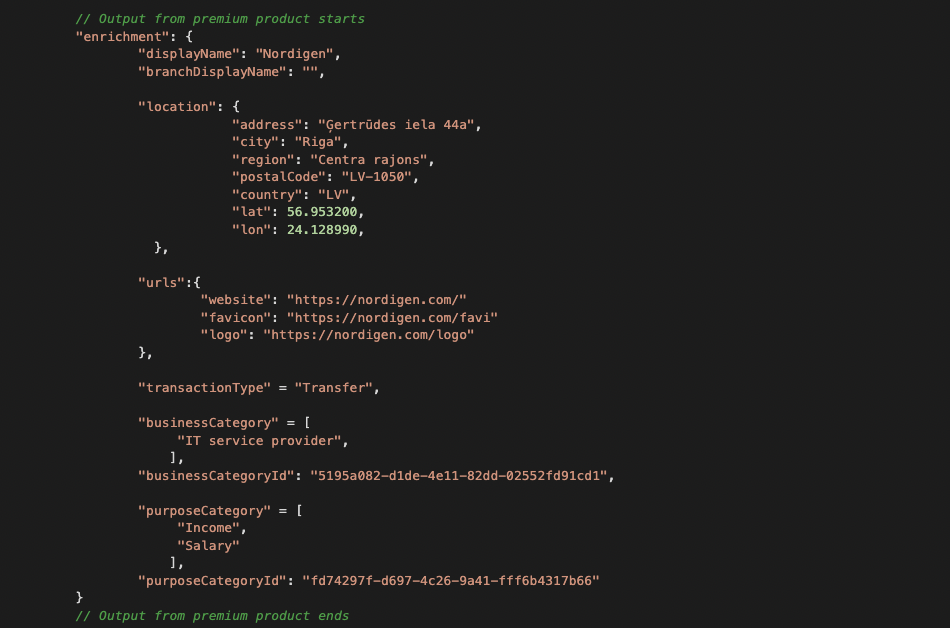 With the arrival of Nordigen Premium's 2nd generation, you will have access to a much improved categorisation feature, that allows for a comprehensive understanding of all income and expense transactions.
Transaction categorisation hierarchy tree
To allow for fast, intuitive, and efficient analysis of data, we have implemented a 3 level hierarchy tree for both verticals, in regard to purpose categories. The main levels – 8 on the income, and 16 on the expense – will give a quick overview on the main category, while the 2nd and 3rd level categories specify the nature of the transaction in more detail.
Below, you can find the new hierarchy tree for transaction categorisation:
Income

Salary

Pension

Pension capital pay out

Work on demand

Scholarships

Income from rent

Interest received

Social security benefits

Unemployment benefit

Family allowance

Sickness benefit

Maternity benefit

Other social security benefits

Incapacity benefit

Alimony and child support

Tax return

Cash
Loans

Payday loans

Consumer loans

Leasing

Car leasing

Mortgage

Credit cards

Credit line

Student loans

Overdraft

Other loans

Cheque
Savings and investments
Returned payments
Entertainment

Gambling

Lottery

Casino

Sports betting

Other
Cash
Food and drinks

Cafes, restaurants, bars

Groceries

Tobacco and alcohol

Food delivery

Other food and drinks

Transportation

Parking

Fuel

Transportation expenses

Vehicle purchase, maintenance

Taxi and ride-sharing services

Travel

Flights

Lodging

Car rental

Other travel

Loans

Payday loans

Consumer loans

Leasing

Car leasing

Mortgage

Credit cards

Credit line

Student loans

Overdraft

Loan penalties

Other loans

Bank fees
Cheque
Savings and investments

Investments

Savings

Other investments

Debt collection
Government and Non-profit Organisations

Charity

Bailiffs

Alimony and child support

Taxes and government fees

Association memberships fees

Administrative violations

Rent and utilities

Heating

Securtiy

Electricity

Natural gas

Rent and maintenance

Telephone, internet, TV

Water

Other rend and utilities

Personal and Healthcare

Beauty, cosmetics

Health and pharmaceuticals

Gyms and fitness

Entertainment

Gambling

Lottery

Casino

Sports betting

Music

TV and movies

Events, museums, and amusement parks

Other entertainment

Services

Insurance

Life insurance

Non-life insurance

Other insurance

Education and courses

Postal services

Childcare

Accounting and financial planning

Consulting and legal

Other services

General merchandise

Household goods

Clothing and shoes

Children

Books, newspapers, magazines

Pets

Sporting goods

Online marketplaces

Gifts

Other
Furthermore, to facilitate the understanding of data and improve services that have our categorisation as a foundation, the business category has also been revamped. In this 2nd generation Premium, we have made available a list with a few thousand individual categories.
This might sound like an overwhelming number, but the final result is undeniable. You, and your customers, will be presented with a more reliable and precise classification of the business where the transaction originated.
If you're interested in testing Nordigen Premium, please sign up here and a member of our team will reach out to you shortly.
We hope you will find Nordigen Premium useful for your business needs. 
If you have any comments or questions, please contact our sales team: sales@nordigen.com.
None