Nordigen's monthly AIS open banking tracker provides insights into how open banking data is gaining traction in Europe. We're following and tracking all newly registered and authorised account information service providers (AISP).
Our tracker is based on European Banking Authority data and aims to cover the developments and growth of open banking in the European Economic Area.
Highlights:
There are now 282 registered AIS providers in Europe, up from 272 in August
Germany is the leading country with a total of 119 authorised AISPs
5 countries have surpassed 100 AIS providers
Spain and Lithuania were the countries with the most growth in September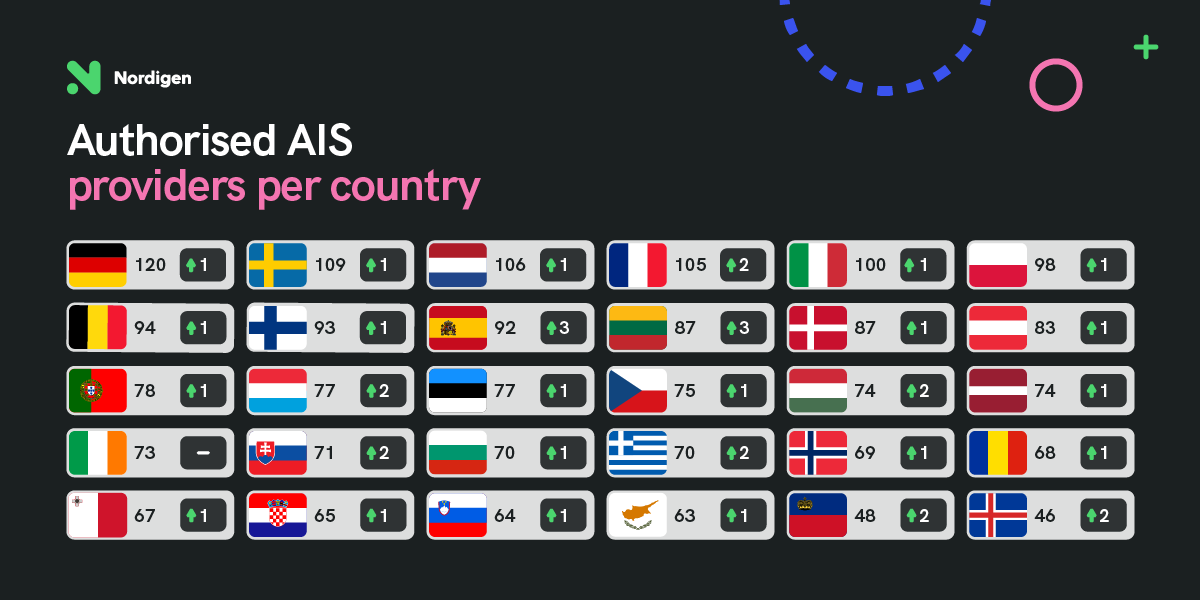 Europe's number of authorised AISPs started to pick up the pace in September
As expected, September presented itself as a great time for growth in regard to the number of AISPs in Europe. During the last month there were 7 new AIS providers registered, which represented an increase of 133%.
During the same period, existing AIS providers increased the number of countries where their AIS licences are passported. A total of 5 countries now have more than 100 AIS providers that are authorised to connect to bank accounts — Germany, Italy (new), Sweden, Netherlands, France. This number will most likely increase over the next few months, with Belgium, Finland, Poland, and Spain all having over  90 AISPs already.
Maintaining the same trend, Germany is the country with the highest number of authorised companies in the open banking industry, with a total of 120 AISPs. On the other side of the spectrum, we have Iceland and Liechtenstein as the countries with the least number of AISPs, still struggling to reach the 50 providers mark.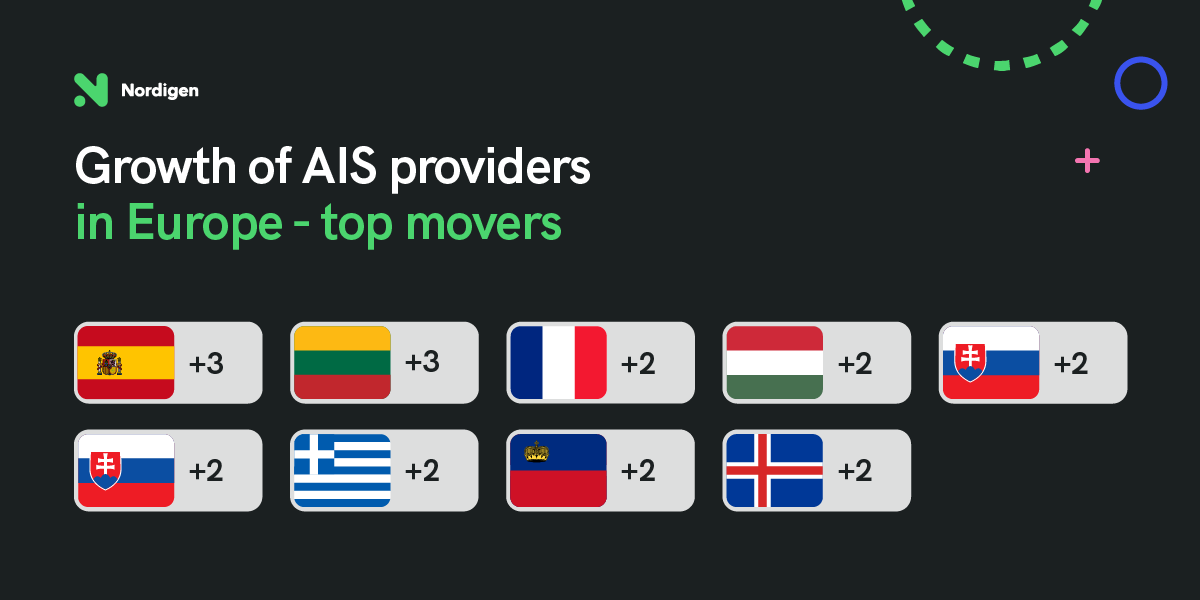 Average growth of new AIS authorisations in Europe
Even though the numbers for September are not as impressive as we wish they would be, there is a steady growth rate  with all the countries (apart from Ireland) registering at least one new AIS provider.
Spain and Lithuania were the two highlights of the month with 3 new providers, with 7 other countries registering 2 new additions:
France
Greece
Hungary
Iceland
Liechtenstein
Luxemburg
Slovakia
With the consistent growth of open banking in Europe it's expected that before the end of 2021 we will start to see these numbers rise on a monthly basis. It will be interesting to observe if this growth will be mainly focused on the countries that have made the greatest strides in this area, or if the expansion will finally start to hit countries with fewer available providers.