Data enrichment is the process by which supplementary levels of insights are added to raw sets of data. This is particularly useful to complete missing or partial information, and can be achieved by incorporating data from external authoritative sources into an existing database.
One can argue that data enrichment is today perhaps one of the most important aspects of business, with its impact reaching areas like sales, of course, but also customer service or even marketing. 
Why is data enrichment important?
Enriched data is at the core of most decisions within a company, serving as a backbone for sustainable growth and long-term profit strategies. Why? Simple, this type of data is easier to observe and categorise, contributing to the overall organisation of your business and the quality of your products and services.
The more structured data you have, the better your decisions will be. Let's take financial businesses as an example. The data you gather from your customers comes in its raw form. When customer data is collected and stored, it's pretty much useless. 
It's only after passing through data cleaning processes that this information is enriched, in order to provide it with additional useful knowledge. Data enrichment adds value to raw datasets, helping you get a better understanding of your customers, and, in the particular case of the financial industry, of their financial lives — all without having to ask them for more information. 
Here are some types of scenarios where data enrichment can be particularly useful:
Starting a new business (moving from physical to online store, etc.)

Moving to a new industry 

Trying to keep up with the competition

Trying to reduce fraud impact
What are the benefits of data enrichment?
Data enrichment should be seen as a key competitive advantage for those who use this type of resources, as it helps improve crucial business areas: 
Know more about your customers, reducing the friction of constantly having to ask them to fill out lengthy forms;
Promote a seamless customer journey, removing obstacles that can lead to abandonment in its various forms;
Improve customer experience, by anticipating their needs and providing them with tailored products and services;
Adequate data enrichment tools deliver results in real-time, saving time and money for all those involved;
Store only what you need, saving the information that has some kind of value to your organisation;
Boost sales, by having an updated and relevant contact list always at your disposal, increasing efficiency;
Improve marketing efforts, by relying on targeted marketing that directly resonates with your ideal customer profile;
Data Enrichment in open banking
When we talk about data enrichment in the context of open banking, we are basically referring to a process by which raw financial data is transformed into actionable information. This is done by cleaning transactional data and categorising it. 
Raw transactional data is very hard to work with, mainly because of the abundance of duplicate entries and long strings of text that offer little to no value at first glance. Data enrichment offers a fresh and intelligible new-look over that information, removing the noise so anyone can understand what's happening. 
After the data has been cleansed, more value can be added to it by attributing categories. You might be asking why it is necessary or advantageous to categorise transaction data, and the answer is quite simple: categories allow us to see the bigger picture.
For example, the dinner you had last night at Burger King will be categorised in the "Food and Drinks" category, but your shopping spree at Zara will be added to the "General Merchandise" category. This is invaluable if you wish to deeply understand someone's personal finances, allowing you to ascertain patterns and spending habits, amongst other things. 
Lending and data enrichment
The lending industry is consistently showing signs of growth, with many businesses looking at these services as a primary way to improve their offerings, get ahead of the competition, and generally take their projects to the next level. 
One of the most important aspects of lending is credit scoring, which is heavily dependent on data enrichment. Lenders often access third-party databases to extrapolate a financial profile that allows them to reduce risk by rejecting those deemed as most likely to default on payments. 
With the help of Account Information Services (AIS), lenders can finally base their decisions on something more than just unstructured databases, and are able to do it in real-time. 
Personal Finance Management (PFM) and data enrichment
By categorising transaction data, you can know a lot about one's spending habits. Enriched information can then be used to come up with better insights that can forever change the way you look at your personal financial management. 
These kinds of apps are particularly useful when it comes to educating end users about goal setting, budgeting, and perhaps most important, how to make the most out of their money. 
Data enrichment products take raw transactional data and deliver clear and intelligible information that can be used to change people's lives and improve their financial literacy. This is somewhat invaluable in today's macroeconomic scenario. 
Concepts like Artificial Intelligence, Machine Learning, prediction or aggregation are used in data enrichment to figure out what data is most relevant and make it actionable. 
How Nordigen Premium data enrichment will help your product/service
With Nordigen Account Information API you get free access to raw account data from banks. With Premium, you get the original output as well as the enriched information on transaction level.
In order to efficiently and effectively analyse data, Nordigen has implemented a 3 level hierarchy tree on the categorisation tool. The main levels — 8 on the income, and 16 on the expense side — will provide a quick overview of the main category, while the 2nd and 3rd level categories specify the nature of the transaction in more detail.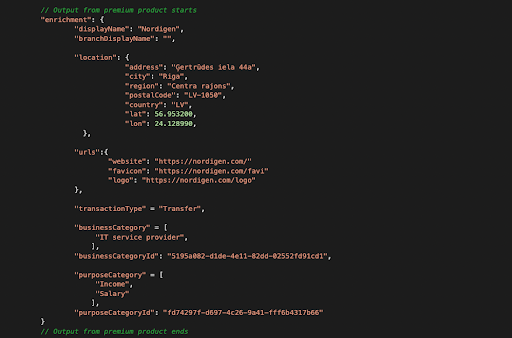 This strategy allows us to provide enriched information, including additional details on merchants like its logo, website or even location. Why? Because raw, unstructured text isn't useful, but detailed and organised information is priceless.
To find out more about how Nordigen Premium can help you get your business to the next level, visit our dedicated page and contact our sales team!